I taught workshops this past weekend in
Crystals on the Rocks
, an eclectic bead store and accessories shop in our favorite rivertown, Nyack NY.
These are the partners, Grace and Kim. Individually, they are each lovely and kind and bright and very put together in their particular style. And together, they are all that, squared, plus completely adorable and delightful to be with. Their collective energy is just so perfect and they have created a fitting environment of beauty, creativity, support, education and beads...did I mention the beads?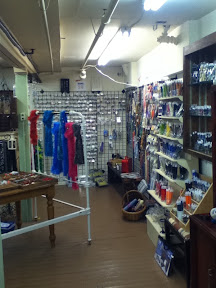 That back wall is devoted to Swarovski beads. They also collect and sell vintage Swarovski and other vintage beads, displayed in cases in the center of the store. Along the wall on the right are the seed beads. They are in long tubes, artfully displayed. And you don't have to squat way down to see all the choices.
As their name would imply, they have gemstones and natural crystals plus books on the energy of crystals as relates to chakra and chi.
The glass cases serve as sales counter and display of finished jewelry and adornments for both body and decor. There is so much to see that just doesnt appear in any of my shots: display of vintage crystal ornaments; unique scarves, sweaters and accessories; incense; unusual and custom findings ( I reallllly liked the colored copper ones, and I do not recall how Kim said they are made. Was it titanium something over copper? Anyway, they are fabulous.).
Jody, Celine and Rose's hand...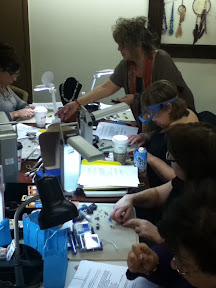 Grace, Karen, and two anonymous beaders, busy at work on Elements of Beadwork. In this workshop you learn a basic stitch and then a variation of it: odd-count peyote double-needle technique; dutch spiral; an original stitch I named peyote-carry-one; polygon rope three sided, four sided with an edge and floral motif. All the little samplers made while learning are designed to be beaded beads. When the beaded beads are strung together with additional beads and one or more focal beads, a gorgeous one-of-a-kind necklace results, an expression of each beader and her own tastes and preferences.
I apologize for not having more and better pictures. There is this shot of Celine's focal piece, assorted lampworked beads, Swarovski pearls and some of her beaded beads before she put them together.
I let just about everyone escape from the evening class before I remembered to take a photo. Fran, yipes, or is it Kim, and Karen let me shoot theirs. Those two beaded beads are also Karen's. She wants to work on them more before stringing them.
Anita
is showing her Russian leaf design. She teaches beadwork here regularly. If you ckick on her name you will see many designs of jewelry using Bead Gallery items stocked by Michael's craft stores. Some of those could be her designs, as she does this type of work for them. Anita told me that December's issue of Bead & Button magazine has her red necklace appears in the store's ad.
March 26, Saturday, I'm teaching this brandy new lariat, Kalahari Oasis. This design is what came of Genevieve from
Bead Gallery
(Melrose MA) asking for an African Helix themed piece. And we get this one to undulate and sparkle and wind up on itself in a most wonderful way.
Nyack beader Linda Vinecour modeled it for us. Posted using BlogPress from my iPad