This lariat was a popular workshop that explores the little known Polygon Stitch. The
Bead and Button Show
offered a second session last year when the first one filled up on the day registration opened.
In preparation for teaching it again this year, Nancy Tobey made me several more of her borosilicate beads and Sylvia located a stash of my favorite stripey beads to invest in. Finding this year's registration for it anemic,
Bead and Button Show
pulled this class to add two more of my popular classes.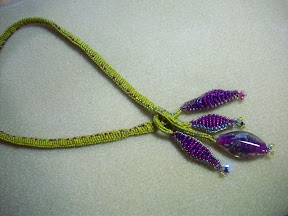 While they last, i'm offering these kits for sale here. Pictured is the original color. The glass bead is flanked by beaded beads you will make using crystals and beads. Both the lariat itself, and the beaded beads are made using variations of polygon stitch.
In addition to the original magenta bead, there are 5 kits made around these 5 other focal beads: midnight, desert, dawn, salmon and dark blue.
$85 per kit, and I'll pay the shipping. You can call with credit card info or purchase via paypal from my website. I'll ask my web mistress to post them there.
-Posted using BlogPress from my iPad