Several Hudson River Valley villages have decorated their Main St/Broadway with statues: Catskill featured cats, Hudson had dogs and Saugerties had horses and I hear recently will have lighthouses. This summer, my fair city, Port Ewen, has joined in this festive celebration of their town and their artists.
My understanding is that the Bruderhoff provided the fiberglass(?) tugboats. Local artist
Claudia Engel
took on the thankless task of finding other area artists and volunteers to decorate them. I am not sure if they will be auctioned off in the end as other villages have done.
When Claudia asked me, I could't say no. Sure, I knew I'd be in Australia teaching for 3 weeks, then off to Massachusettes, need to prep for
the Bead & Button Show
and take on distributorship of Tulip Co. needles but, IF YA WANT SOMETHING DONE, ask a busy person!
When I agreed to take this on, I imagined felting and beading my tugboat. For weeks I ruminated about how I'd do this. Always though, those instructions I had regarding sealing the finished work really had me stymied. Hmmm, sealing felt. And the bubbly style of felt I had in mind really made it daunting. Then last week when I inquired, I was told they needed it by this Wednesday! Yipes! Not sufficient time to produce the necessary yardage of bubbly felt.
So I drove to New Paltz seeking the advice of art supply guru,
Johnny Bridges
. You may recall the posts featuring his show Ropes Reconfigured. I found him easily, no secret, at
Rhinebeck Artists' Shop
where he "hooked me up" with all the appropriate supplies to paint (and only slightly, bead) my tugboat.
For a few days she ( my boat) was my consuming passion, overtaking beads and felt. Imagine. Here she is: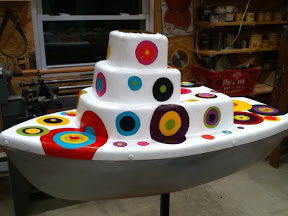 The hull is silver on the port side and gold on the starboard side. And the topside is, as one non-beader summed up the Bead and Button Show, "whats with the dots?". Honestly, what beader among us doesn't love dots?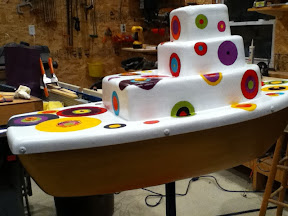 So, in a couple hours my pal Joe will help me deliver it to town hall. It is done and it was fun. And I did manage a few beads. Do you see them outlining a few of the dots?
It will be clear coated and installed later this week, in time for the Memorial Day parade.
PS...Cynthia Rutledge was teaching this past weekend for the Dallas Bead Society. A flurry of requests have been fulfilled for Tulip Co. beading needles from beaders obviously attending her workshop. My website continues to offer them 3 packages $15, shipping included, while my supply lasts, as I await my first delivery of needles and awls and beading crochet hooks as distributor. Soon, in my dreams, I'll supply them to your local bead stores, everywhere, to have in stock whenever and wherever you need them. Live the dream.
Posted using BlogPress from my iPad