Today is the last day of the exhibit "American Earth", a new body of acrylic on canvas by
John Bridges
at
Unison Arts Center
in New Paltz NY.
Sorry to give you last minute notice. The opening was September 9th, when "the flats" were flooded. The attendance was overwhelming, even though flooding and road closures necessitated that everyone drive 20 or more miles out-of-the-way to get there. (Above, snapshot taken with iPod before the gallery became too crowded, the artist is seen on right, with a couple of early arrivals.)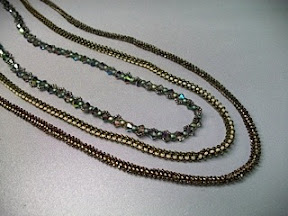 Saturday I'll be back in Nyack NY at
Crystals on The Rocks
to teach 2 condensed versions of workshops that I taught ( and will again teach in June) at
The Bead & Button Show
. Above is Trilogy of Chains, for the morning (10-1) and
In the afternoon expect to make one or more solid crystal geometric components to wear on one of those chains or connect to another 10...into a Crystal Galaxy Necklace. If you call Kim's cell phone 201-747-4748 she'll reserve your space.
Innovative Beads Expo
has again invited me to their Edison NJ show. This November's IBE focuses on EMBELLISHMENTS! Right up my alley. Rather than confine my access to 20 or so students in a class, we've planned these demonstrations:
Each demonstration is available as a kitted project. This way, after simply watching the demo, if you want to make that item using the techniques shown, the ingredients and recipe are right there for you to complete at home (or, if we are kindred spirits, right in your hotel room later the same day!) My beloved niece Amy will accompany me. (You know her from acknowledgements and additional appearances in MASTERING BEADWORK,
as the force behind Fireflies at Twilight, and with me at Meet The Teachers events. Once again, she will assist you in purchasing kits, books and Tulip needles, bead crochet hooks and nickel-plated felting needles, freeing me up to demo...demo... demo. You are invited to come and "use me up". It is our opportunity for me to share with you many versatile and inspirational embellishment techniques.