I loved teaching Fabulous Felted Fascinators in Australia but, until the Royal wedding, folks in the states just didn't seem to "get" them. Now they (fascinators) are a hot item. Yesterday I taught this workshop at Beadzo in Tivoli NY.
We asked Terry to model her's for the camera, even though she had not completed assembling it.
She began by layering merino wool for a base. Then she decorated it with the circular motifs.
By placing a sheet of resist on top of the assembled wool, She was able to make a solid black flower simultaneously.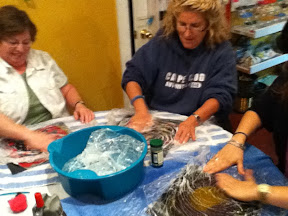 To Terry's right is Beadzo owner Pamela Morin and on the extreme right, arms-only visible, is Kaja, a jeweler who user to work at Beadzo.
Betiana and Christina worked at another table with Anna (not in view). On October 23 I'll be teaching the Fabulous Felted Fascinators at
Bead Gallery Inc
in Melrose MA. In the morning we'll create the felt piece(s). Then, selecting from an array of feathers (maribou, peacock, guinea hen, ostrich...), tulle (colored, sparkled, plain...), ribbons, sequins and your own stash of beads or the abundant inventory of Bead Gallery Inc, we'll fabricate and embellish an amazing hair ornament as unique as you are...demure as Jackie O or dramatic as Lady Gaga... You decide. That same weekend, I'm introducing a brandy new design called Beyond the Red Velvet Rope. (Thank you Stacey, for coming up with that name for this.)
And on that Friday (21st), there are 3 3-hour workshops. One is a handful of rings including a "20ct Diamond Ring".
I'm in New Hampshire tonight. In the morning I've a full house at
Bella Beads NH
in Center Harbor or Elements of Ndebele (Herringbone), a necklace composed of samplers of many variations of the stitch.
And Sunday we'll felt bangles to bead in the morning. And in the afternoon, we'll bead Manhattan on the edge.
Hey, I've been lax in matching my blog posts to all the things I want to share with you. For example, I told you we would make Spiral Fever at
Beads Mosaic
last weekend and then neglected to show you how gorgeous their necklaces came out. I was having such fun teaching that I just overlooked getting many shots. Here are 3 in progress:
Off to bed... Posted using BlogPress from my iPhone