It took me over a week to get around to sharing with you about our last Bead Blast, and then....holy smoke, I must have hit the "discard" rather than "post" button. So, here we go again. In addition to the giggles, good food and bead shopping, we even managed to get some beading done. There were beads and kits for sale by
Sisters' Originals
,
Pat Riesner
and
moi
.
A few beaders made this Stick Pearl bracelet. Cathy culled through the rice pearls in her kit, setting aside the shorter ones. The kit contains 2 strands of the pearls in addition to the double-drilled stick pearls. It takes nearly both strands, one per r.a.w. section to complete the bracelet. When she thought she was ready to connect the two sections, I pointed out that she was one row short on each. This meant she'd have to use those shorter, culled pearls.
It resulted in a subtle curve to the finished piece (top one in picture), compared to the one made using the pearls as they came off the strand.
Notice the beaded bead above the two bracelets? It is made from a kit I gave to each beader, so I could share the new faster easier way to do undulating tubular peyote (dubbed Cellini spiral by
Virginia Blakelock
and again later in a
project published by Deb Samuels
).
The gunmetal gray and hematite colored undulating peyote above is Amy's work. She put aside after a few inches to start the red piece shown. It is made of Czech pod-shaped beads and an assortment of purpley red seed beads. Though she used spiral stitch, it has a similar profile as the undulating peyote. It is gorgeous and I suffer bead envy, I admit.
Wendy worked on this stunning bracelet. She purchased the recipe from
Sand Fibers
, Carol dean Sharpe's website, where you too can buy one of her recipes. Carol and I are facebook friends and have almost met at the
Bead & Button Show
. When she and her much admired designs became the topic,
Pat Riesner
revealed that she has purchased Carol's commercial design...this is permission to teach a class using Carol's recipes. What a clever concept.
Sylvia and Cathy
might follow her lead with one of their Long Island workshops.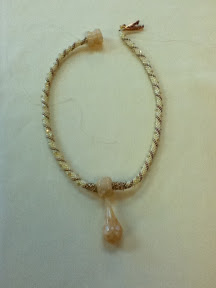 Janet showed us the necklace she is submitting to a exhibition that features "wood"-turnings. In this case it is this resin focal element made by
her wood-turner husband, Bob
. Janet has hidden the closure within the resin piece at the back.
Several of their turned pens were for sale to us. Click on Bob's name to look at their website so see their line including crochet hooks and beading looms.
Throughout the weekend I delighted in hearing the testimonials to the new Tulip brand fine beading needles. I think everyone at the Bead Blast bought a package. I told the beaders how Tulip and I had corresponded back in June about what I look for or would dream of having in a beading needle. Already known and respected throughout the quilting community, as manufacturers of fine sewing and quilting needles, Tulip has made it their mission to satisfy the beading community as well. This is a needle that flexes to fit into tight spaces and springs back to straight! The eye is easier to thread and is less likely to pull open or break off when pulled on. The point of the tip is rounded to avoid splitting thread and make it easier to slip into the beads. When I returned from Japan in January, I brought along a few hundred of the size 11 needles. They are offered for sale on my
website
and I will use them in some of my kits. Pat said poetically that "they are like beading with silk". Wendy took it as a challenge and was happy to see that the needles remained pretty straight even in her hands,
- Posted using BlogPress from my iPad