Saturday I returned to
Crystals on the Rocks
in Nyack to teach an African Helix lariat that is made to undulate and spiral. When the undulations wind around the beadwork, it becomes the way the piece is worn.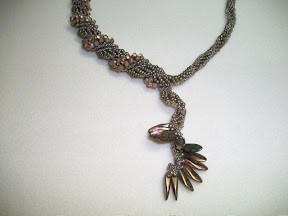 And the design features those sexy new spotted daggers, dangling from one end.
Celine. who is accustomed to gold tones and blonde coloring, is adjusting to her gorgeous recently-silver self. She spoke about this change in color palette when I admired her silver hair, grey and gunmetal accessories and how put together she is. Notice here, in her beadwork, that she embraces silver and hematite while maintaining a champagne overtone. Beautiful.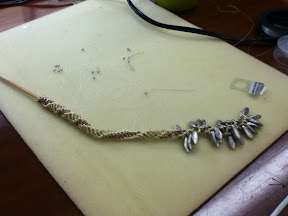 Notice the difference in the diameter of the tubular beadwork when it is filled with an armature and where it is not. It is then free to relax into swirling panels of beadwork separated by "piping", or linear beads that protrude above the others. (This is your situation Anne...from Danish blonde to silver fox.)
Cheryl chose stunning orange and metallic daggers to accent galvanized copper beads. For the piping, her matte khaki beads produced an interesting visual conflict...the illusion of receding due to the matte finish while protruding above the other beads, hmmmmm.
By 5pm, when the workshop ended, most beaders had several inches completed and knew how to procede with the far end, when they get there. A few hearty beaders ordered soup from a local eatery and returned for the evening workshop...Drop Bangle Bracelet.
Sorry I was lax about taking pictures today, guess I was just in the moment. Most of the beaders had gone before I realized. Karen and Anita were good sports to model their finished bangles.
Anita is the beader I mentioned In last month's posting from Nyack. She designs beadwork for Michael's. She brought in a couple recent magazine ads that feature her work. If you go to their website, you will see her patterns for sale.
This eclectic beadstore also carries some clothing and accessories, as I mentioned last time. There was so much to take in at once. This time I really took notice of the clothing and a sweet little silk jacket caught my eye. It had that elegant quiet shimmer of raw silk fabric that has warp thread in one color and weft thread in a quite different color. When Kim told me that it was one of
Jody's
fashions, I could'nt resist. Jody has beaded with me in both of these weekends at Crystals on the Rocks and I just love the idea of wearing one of her designs. My entire travel wardrobe (and not just for travel) is clothing by Zee Mizrahi. It tickles me to purchase from the maker.
The store just received their second shipment of
Mad-danas
, versatile headwear that can be worn 10 ways. It is a headband that can stand up to these long locks plus, covers much of the hair for when I am gardening and biking. Pretty clever item. Okay, I taught, visited and shopped. It was a great day!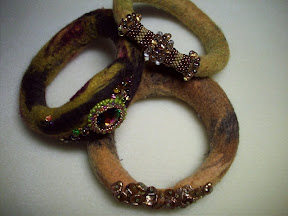 April 23, freshly returned from Australia, I'll be teaching two 3 hour workshops. While it would be great to have you at either one, if you can take both it will be soooo worth it. You'll take away at least one completed handfelted and beaded bangle and others ready to be finished at home.
In the morning session we'll create felt for bracelets, using luscious merino wool in an array of colors and a Turbo Felting Board with a little hot soapy water. In the afternoon we'll make beaded beads that are lovely to wear on a chain or, if you took the morning session, to connect the tapered ends of the bracelet. Plus we'll cover rivoli bezeling techniques, and bead emroidery as time allows. Not to worry, we'll let you out at 5pm so there is plenty of time to color or hide your eggs, if you wish.
Hope I see you there.
Word is getting out about how superior the Tulip beading needles are. Tonight I had a call from Florida. This beader heard other beaders talk about them. Excellent that they are sharing the news. It will be fabulous when I have the size 13. They are precious. When I was demonstrating at the Tokyo dome's International Great Quilt Show in January, I threaded 10# fireline in one and passed through a size 15 seed bead 5 times!!!!
While I am teaching in Australia the first half of April, I've asked that they resist answering my phone. So, if you order needles, or kits or anything, they won't be shipped until I return.
Posted using BlogPress from my iPad