Canberra's number one-stop Needlework shop,
Crafty Frog
, sent out their first newsletter since December to announce the 2 workshops I'll be teaching there on 4-4-11.
Crafty Frog has been closed for over 10 months due to flooding. All their stock was written off, all their fittings cleaned. And they have new (bouncier) carpet, a new paint job and all new stock. Laura is delighted to tell us that, Crazy Frog (as the workman were calling us) is back! New stock has been put on the shelves and new stock continues to arrive daily.
Laura says, that for those who are attending the full day, morning tea, lunch and afternoon tea will be provided. She adds that, of course, refreshments will be available for everyone.
Raku and Rivoli Bracelet will be one session.

Enjoy a taste of polygon stitch using only two stitches per round to whip up this bracelet that combines the look of matte raku with the sparkle of glass and crystal.
Employ the interesting thread path of polygon stitch, unlike any other stitches you know, first passing through a bead, then picking up beads for the stitch and anchoring them by passing under thread between beads. Bead a beautiful textured bezel utilizing that same thread path concept to embrace and secure a rivoli that serves as both a focal element and closure. The bracelet transitions to herringbone on the far end, acting as a buttonhole that frames the rivoli when worn.
Prerequisite: none
Level: Intermediate
Cost: $50 + Materials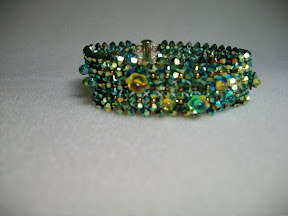 Midsummer's Night Bracelet is the other.
Create a sparkling fabric of Swarovski crystals using a double-needle method of right-angle weave. Learn the little mantra that propels you through row after row.
Embellish the surface while increasing the integrity of the beadwork by the addition of miniscule golden charlottes, swarovski elements and drops. A magnetic tube closure lends a jewellery store touch to this refined and elegant piece. Don't expect to finish in class.
Prerequisite: none
Level: All Levels Welcome
Cost: $50 + Materials
Today I went to the copy shop to get the recipes printed. Tomorrow I'll start to pack.
It is so thrilling to be returning to Australia.
So now you know, My first week in Oz will be with Canberra Regional Feltmakers, then, Laura at Craft "Crazy?" Frog and then Jenny at Jelly Beads of Mogo.
The entire second week is a week-long workshop in Hand Felted Comoonent Jewelry at TAFTA (The Australian Forum of Textile Arts).
- Posted using BlogPress from my iPad