When my Garmin estimated it would take MORE than 2 hours to drive to Edison NJ, I decided to book a room there. My favorite chain hotel had no vacancies when I called. When I called the owner of
Innovative Beads Expo
to inquire where everyone with the show stays, she gave me a detailed and concise lesson in Priceline. And, as luck would have it, they sold me a room in that same hotel that had no vacancies. Go figure.
Edison NJ's
Innovative Beads Expo
was fabulous. There was a nonstop stream of happy bearers that passed by all day long. I was set up in the foyer between the large and larger ballrooms. My role was to be a bonus for attendees: demonstrating beadwork techniques, signing books, teaching a 2-Ring Make & Take ( see above) and even a short bracelet class. I'll return in November for Friday & Saturday.
That show will include an emphasis on fiber along with beads. So expect me to offer this project.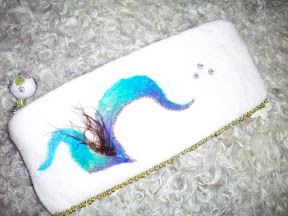 Each participant will be provided a white felt purse as their " canvas" to embellish with beads, feathers, yarn and wool. I'll provide instruction in beaded edgings and needle felting.
In December find me at the Fishkill Innovative Beads Expo. If I were not this minute, sitting in the airport, bound for
Creative Castle
in Newbury Park CA, I'd be going to Fishkill this weekend, for the Expo.
Sunday I taught at
Beads Mosaic
.
Carla, a kindred spirit in her orange blouse with matching orange and hot pink purse, came, knowing she'd have to leave early. She completed the band, beaded toggle closure and at least one fan before going.
Jody's
turquoise and aua beads really boosted the vibration of her bracelet.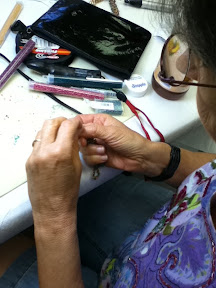 As happens frequently, Ellen selected beads for her bracelet that were pretty much the colors she was wearing.
I left these bezeled Swarovski rivolis and stones to display for our August 6 workshop. - Posted using BlogPress from my iPhone
Location:Broadway St,Port Ewen,United States