Oh where, oh where did my last blog post go? Oh where oh where can it be?
Hmm. I finally got around to writing about the extended weekend of workshops at
Bead Gallery Inc
, using my iPad...because this was what I had at hand between appointments and stuff, and without wifi. Figured I'd pop the photos in from my iPod later and then publish but, ALAS!!!!!! The darned thing has disappeared.
Several accounts of crashes and disturbances since the OS 5 update are reported. Although I've notified the developer of the app, it doesn't resolve that the time and text are lost.
So, here I am on the iPod, hoping it is up to the task, because this is where the pics are.
We began last weekend with 3 beadwork workshops on Friday.
I taught the Handful of Rings and Is Eight Enough? bangles and bracelets workshops that I will
also be teaching in June at
the Bead and Button Show
. And in the evening I taught a swirling tubular necklace embellished with either firepolish
or swarovski crystals. I've redesigned and simplified that necklace, calling it "Painted Desert Necklace" that I'll be teaching December 3rd at
Innovative Beads Expo in Fishkill
.
Sunday we devoted the day to Hand Felted Fascinators. Rita and Robin have felted with me in previous workshops here and arrived with a clear agenda.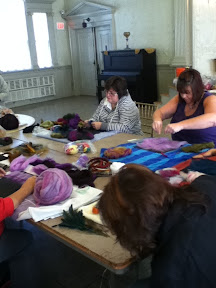 Thisiq Catherine, Stacey and Sharon from-the-back in this shot.
Genevieve's amazing daughter Eva joined us and turned this out!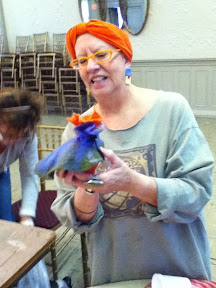 Jamie is the seasoned felter who usually joins us for the felting workshops here. She is known for radically short hair. No worries. Wear that fascinator on a hairband instead of a comb, clip or hair stick.
This isn't the post I already did twice but...it IS the way to share that weekend until the glitches are worked out.
Posted using BlogPress from my iPhone