In the studio class, Irma, about to embark on beading another of her
husband's vessels
, brought this finished one to show us, replete with its amazing finial. Hope I am correct to call that patinated-copper-looking-though-it-is-wooden flame, this crowning glory, a finial.
When Amy arrived to see us admiring the piece, she remarked about the double round of beading at the top edge, as a beautiful detail. The rest of us chuckled because, moments before Amy arrived, Irma shared that Steve too, had commented on this detail, though less favorably. There you have it!!
This convertible necklace/bracelets piece is a composition of beads (lampworked glass, pearls and seed beads) and beaded beads including the Intriguing Pillow Beaded Bead and Trillium Beaded Bead. You may recall seeing the recipe for the pillow bead in my first Master Class article in Beadwork magazine. It also appears prominently in one necklace featured in the chapter about my work in the Japanese book:
9 AMERICAN BEAD ARTISTS, THE ART OF BEADING STITCHES.
Coronet Co. in Tokyo asked to kit that necklace as a project for their members (certified beading teachers and their students). The first time I taught in Japan it was stunning to be greeted in class by so many beaders wearing my necklace. Flattering, thrilling and surprising.
That other focal beaded bead in the convertible necklace above I call Trillium beaded bead. This recent design is one of the projects i taught in October at
Bead Gallery
and also share with those in the Beadzo class, whenever they ask. Last month at Beadzo, Ginny made a couple in blue and yellow. This Thursday she composed a bracelet for her granddaughter adding other significant beads to those she made, making it at least as meaningful as any charm bracelet or the current Pandora/Troll bracelets. BTW, recently I heard that the Pandora/Troll bead stand-off is fueled by feuding brothers. Do I have it correct that this same phenom accounts for rival sneaker and cereal magnates?
The scarf pictured here, and worn by a shy artist asking that her face not appear, was made Friday in my premier workshop at
Arts Society of Kingston
. We had felters from near (Kingston), less near (dutchess county) and far (massachusettes) in this nuno felting workshop.
Fine merino wool and bits of fabric, yarn and thread were used to create surface design on a 60" silk scarf. By decorating only the middle third, the silk fabric at the edges will become ruffled as the wooly areas felt (knot, tangle and "shrink").
To maximize the ruffling, one would place the fiber in a particular fashion AND full the scarf only lengthwise. Lise, pictured, wanted to maintain as much length as possible. So, sacrificing additional ruffling, she finished fulling the scarf widthwise, so it would be sufficiently fulled yet optimally long.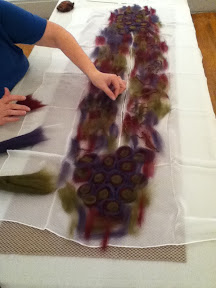 As an introduction to the workshop, I showed and we discussed several nuno felted pieces and garments. Pat preferred to make one of those we discussed, rather than the scarf project I'd proposed. So, if you pair her request with my deep and abidding desire to facilitate "living the dream" and, on the smaller scale, manifesting our hearts' desires and you see her placing two scarves side-by-side lengthwise and using the wool as both surface design AND to connect the two scarves where necessary...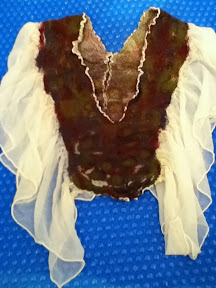 ...and, tada!!!!!! To be worn front to back as seen here.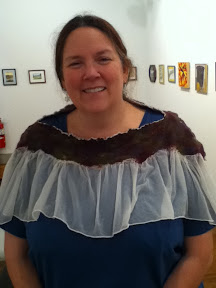 Or, worn laterally across the shoulders like this. Notice that the scarf's formally 60" length is reduced by about a third. Pat, owner of
Colorful Creations Bead Company
is self-publishing a book on needle felting that will be available by June. Check her website or store. Catch a class with her at Tucson this February.
Yesterday I offered a repeat session of the same workshop.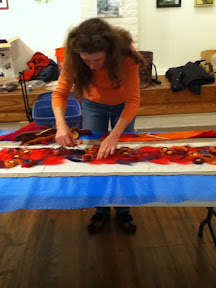 Dorothee
chose a habotai scarf rather than the chiffon. Felting into fabric with denser or closer weave requires a bit more labor than those with more open weave.
Kathryn is seen here rolling the wetted silk and wool to begin the felting process, slow enough to allow the wool to migrate through the silk.
When we see evidence of the fibers passing through to the backside, it is time to full the felt, a process accelerated by using the sharply corrugated
Turbo Felting Board
.
Here is her finished felt. Beautiful.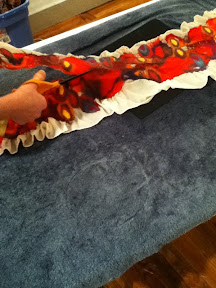 Dorothee opted to cut hers up the center alllllmost all the way,as I had shown in many samples. She'll full it for a few more moments to "heal" the cut edges.
I'll be offering more workshops in this local convenient, spacious and beautiful venue again. I'll keep you posted here and on my calendar as the schedule developes. I am still waiting to hear about the dates I'll be in Japan in January so, will forgo making plans for January.
-Posted using BlogPress from my iPod