Here is what Hudson Valley Time's Paul Smart had to say about
John Bridges'
show, which opened at Unison Gallery in New Paltz last weekend. [Simply offering you the link didn't suffice. Here IS the article.]
The article reads:
Gorgeously Gordian
John Bridges' "Ropes Reconfigured" show opens at Unison Gallery in New Paltz
by Paul Smart December 16, 2010 11:30 AM
Knots are fascinating, both as a metaphor and as real objects...
John Bridges paints knots. Not only does he similarly recognize their innate importance to all souls, but they also haunt his dreams, and have played a key part in his life.
Concerning his new exhibition of "Ropes Reconfigured" – opening this Saturday, December 18 at the Unison Gallery at the Water Street Market in New Paltz – Bridges points out how knot-tying saved his life on two occasions: once while mountaineering in the German Alps and later aboard a research vessel off the coast of Diego García. But he will not dwell on the traumas. Instead, Bridges – who also works at Rhinebeck Artists' Shop in New Paltz – speaks of his ongoing attempts to "untie his knotted psyche" and to reloop the zeit seil or "timerope" of his past into a "Double Redemption Bend" – a knot that the artist claims is nearly impossible to tie correctly.
"I mythologize the Mundane and create works that reveal the ambiguity in the Ordinary," he writes in an artist's statement. "My work conveys both a deep suspicion of, and reverence for, the cast-off, ephemeral and overlooked. I revive items from garbage cans, garage sales and thrift stores, then recombine these rejected objects with strong colors on off-sized panels and canvases. I marry the Forgotten to the Abandoned. I participate in a process that I describe as 'Informed Savantism.'"
The man's résumé – which starts off in Texas, born in 1962 – includes sojourns in Pennsylvania, California, Belgium, Iowa, Colorado and Washington, DC; three years in the Army as a cavalry scout; and work as a store clerk, video editor, teacher, cook, bartender, paralegal, housepainter, social worker and assembler at a mannequin factory. He cites, along with a BA in Literature and failed attempt at a Law degree, a continuing fascination with Joseph Beuys, Jackson Pollock, Robert Rauschenberg, Jasper Johns, Walt Whitman, Pee-Wee Herman, Tom Waits, Giotto and Fra Lippo Lippi.
This current show opens with a reception on Saturday from 4 to 7 p.m. at the Gallery at the Water Street Market – located on lower Main, just before the bridge over the Wallkill in the Village of New Paltz – and runs through January 11. For more information contact the Unison Arts & Learning Center, itself located at 68 Mountain Rest Road west of town, by calling (845) 255-1559 or visiting www.unisonarts.org.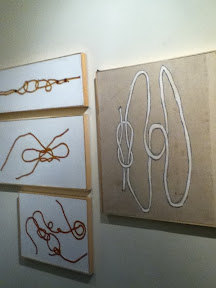 To a beader, knots are executed with finesse and precision, often as the finishing touches to a completed piece of beadwork. Knots can also bring us to our knees when they mysteriously appear in out thread and bring our blissful, creative, meditative beading to a screaching halt. Knots account for a huge part of the reason I've become such a proponent of PowerPro beading thread. From years of experience, I can testify that, when using PowerPro, I can securely finish the work, knotting it [purposely] as though my life depended on it, and yet, have been able to "tease" open those knots if necessary. This extends to those mysterious ones as well.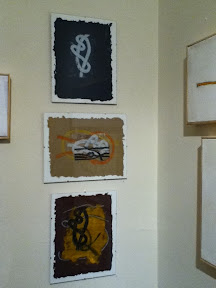 As a beader, I was intrigued by the scale of Bridges' knots. Their size and perspective permitting us to examine and appreciate the bends, curves and intersections that define them.
The artist, John Bridges and his wife, Amy Raff. Yes, you recognize Amy from posts here about her beadwork.
Get into New Paltz NY to catch this show. And while you are in the Water Street Marketplace, check out the stores. I suggest a cruise through Maglyn's gift shop and a gourmet purchase at the cheese shop.
- Posted using BlogPress from my iPad