It has been a couple years since I last participated in my
library's
holiday boutique gala. It coincided with the First Saturday gallery festivities in Kingston. So folks who came to the gala this evening were out for an evening. Many were headed to Art Society of Kingston (A.S.K.), and then on to the "shirt factory" on Cornell Street, now artists' lofts and studios, and from there????
It was an evening of exquisite schmoozing and, possibly "networking". Holly Rizzo introduced herself. She said she knew my name from our shared experience of offering workshops at Mohonk, among other things. She continues to offer regularly scheduled pastel workshops there.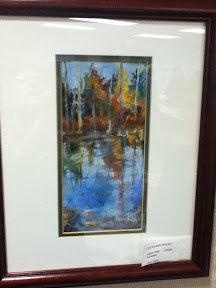 Her work on display at the gala, and for the duration of the holiday boutique, captures the serene beauty of the John Burroughs sanctuary near our homes. We had a delightful visit, kindred spirits in many ways. Perhaps we'll meet up and hike around John Burrough's together.
The needlework group that meets at the library had an array of handknits for sale at, to call them bargain prices, would be an understatement. Perhaps their wool was donated AND they just knit with abandon for the sheer joy of it and are eager to pass their finished goods along for, as grandma called it, pin money. I purchased a couple pair of fingerless gloves/wristers and a wonderful gorgeous wrap of hand dyed yarn to wear with my melton cape.
Do you notice the couple of entrelac hats on the table? Suzanne and Michelle, the knitters, had taken a workshop on this with spinner, knitter, natural dyer
Kathryn Alexander
. Kathryn's designs are also offerred as kits. Years ago my spinning group had an entire weekend with Kathryn. She is known for her natural dyes on yarns which she hand spins. But the exciting thing about her work, well one of them, is that she uses the yarn fresh off the bobbin, as singles (rather than plyed), to capitalize on its energy, knitting or weaving fabric has an intended clingy, collapsable (in a good way), elastic quality she attributes to working with "over-energized singles". Sounds sexy does't it? Well, even though I am not a weaver (not counting beads of course) and have abandoned knitting, spending some time with such a dynamic and vibrant fiber artist was time well spent.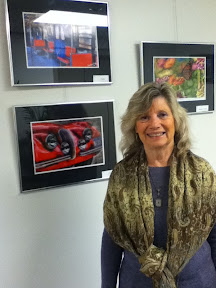 Photographer Anita DeFina Hadley had irresistable work on exhibit. The "full moon" piece to the left of those in the photo very nearly came home with me. I enjoyed visiting with her.
Anita has a photography group that meets at the library on Wednesdays. I asked if she might know of a local photographer I might engage. My history of handling the necessity for decent photographs of my beadwork and felt includes: a VERY expensive and high maintenance fellow in Maine who ties up the work for weeks; a local, who, despite his fine reputation and proximity, manages to capture the least flattering reflections and is, also pricey; taking workshops in "photographing your artwork", spending 1K on my own dslr camera, struggling to learn how to use it plus adding new lenses, lights, filters, reflective surfaces, and other photography studio equipment. I know some of us take this on in style. Gail shoots interesting macro shots of her work. Rachel took an evening course for weeks and is pleased with her new skill. But, I ask you, isn't it enough to be good at what we do without having to "do it in French and underwater" ( as I refer to it when asked to also be proficient at say, photography, photoshop, graphic illustration, illustrator CS5 etc.)? Oooo, forgive the rant and rave. This afternoon I enjoyed a luxurious long visit with
Nancy Cain
on the phone. I shared with her my experiences of teaching in Japan for Coronet and she told me about her teaching in Kobe at the bead art show and her delight in being asked to teach at Coronet next month. She also told me she recently found a local photographer who is not only convenient but, amazing and affordable. When she'd seen a photo he took of a tool, it was sooooo gorgeous that she thought, damn, if he can make THAT look good, imagine what he can do with my beadwork? Yeah, that's what I'd like. Years ago another beadworker I know said of her photographer "His photographs (of her work) are so fine that I'd rather sell the photos of my work, than the work itself." Wow. That stuck with me. Hope someone in the photo group is that person.
Sue DeSanna came by tonight also. We had a great visit. When I taught those couple semesters in the fashion program at Marist College, Sue was a professor in the department and, as I remember it, a co-department head, until
Radley Cramer
came on as department head. She teaches fashion courses in continuing education at SUNY Ulster, patternmaking and draping among other things, as well as workshops. She calls herself a "fashion tech" and that only touches on it. She is just what every fashion hobbyist, aspiring designer, textile or fiber artist wanting to create clothing, needs. She might be the garment whisperer for those of us needing her expertise to bring our fabrics into garment fruition. Every time we run into each other it occurs to me that it would be fun to ask her to join me in offering a felt garment workshop. We'd make beautiful felt, not unlike this coming Friday at A.S.K., where I will teach nuno or other feltmaking with a garment in mind. And in the second part of the workshop, Sue teaches us how to produce refined runway wearables using our fresh fabrics. I'll let you know here in the blog if I do anything with this idea.
Turns out that a couple of the folks I visited with this evening might join me next Friday for my nuno felting workshop in Kingston. I'm looking forward to it.
Posted using BlogPress from my iPad