The landscape looks at once familiar and foreign. That is, the topography is'nt so different than home but, the gum trees and most floral and fauna, are distinctly Australian. This is the view outside my bedroom window for these first couple days.
When Joy, front and center in blue, delivered us to the Green Room, where the Canberra Regional Feltmakers meet, we. Were met by 8 eager felters.
After over an hour of show & tell, most present wanted to work on complex cane hand felted beads. Left to right in back row are Kerry, Annette, and Andrea.
After Annette cut her cane into beads, we discussed shaping. She has wrapped wire on her neads to help them dry tomher desired shape.
Helen wished there was grater contrast in her color choices but, honestly, look at the symmetrical and meticulous design she crrated. Lovely.
Andrea's beads are gorgeous AND she will tease and poke and manipukate the ends of her cane into another component.
Joy achieved real precise design in her beads.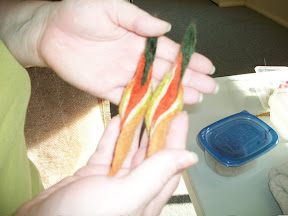 Julie made 2 felt cuffs and this pair of felt elements she'll use as earrings.
It's late.
Most of us met up afterwards for Thai dinner together. Delicious. But now I find I'm tired and so, I'll say good night.
Hopefully tomorrow i'll take some more and better pics and be able to share them with you here.
Posted using BlogPress from my iPad