The Canberra Regional Feltmakers and I hit the ground felting this morning. Honestly, we convened a little before 10 am and the room was buzzing with activity and excitement. Hazel could not come both days so today the table she worked at was occupied by Allison.
Allison set right out to create complex camr hand felted beads and this was her result. Gorgeous. She must have felters dna!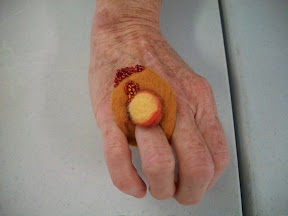 Christine had worked on the felt ring overnight and even tried her hand at beading it. We all loved this design.
Andrea and Julie both spent most of the day on their "lizards". That is...felted wire armature shaped into spiral with bead at one end with a cross wire (legs).
Kerry brought in some beads her
daughter
made. Turns out her daughter is quite a talented beadmaker and jewellery maker.
She made this piece for Kerry to wear to a wedding. Of course the focal beads are her own creation.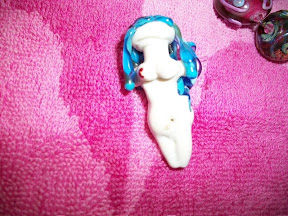 Kerry cherishes one of Jessica's earlier beads, this goddess "gone wrong". I loved the concept. I'm sure she meant that the glass technique was not her best moment but, I just love "goddess gone wrong". Kerry gave me a gift of the goddess bead in the photo 3 up. The felters teased me a couple times during the day that the goddess bead had turned and was mooning everyone as I innocently dangled her from my neck. Nothing really, compared to Jean flashing her lip at you. (I apologize for the insider reference to the tatoo inside a fellow beaders bottom lip!)
Annette was at work on her lariat/belt before everyone else had even unpacked their wool and settled into their places. She used hand painted roving by Rachel Meeks. I met Rachel in 2008, the previous time I taught at TAFTA. I look forward to purchasing some of her yummy merino at TAFTA again this year when I go there Sunday to teach for the entire next week. These 2 days with CRF was so productive and exciting. Imagine an entire week together? This is what TAFTA provides, an intensive atmosphere of an entire week devoted to one discipline. Amazing work takes place.
Helen F. finished the day with her nearly completed, sculpted felt bracelet.
Our, other of the two, Helens made several bracelets including this one with the red tips. The photo does'nt do it justice. The way the slate color transitioned to red at the tapered ends was enough to cause felt envy. It will be gorgeous.
When it came time tomwrap up our weekend together, half the felters had gone before someone thought to display the day's efforts. Here are those few items from those feltmakers that remained. Kerry felted the orange tubes to decorate her exceptionally long and exquisitely even, periwinkle felt rope. Annette and Andrea banged out a flower each ( leftish center and white to the far right, respectively). Lower left is Christine's pendant...an end cut of her complex cane with a gold eyelet made using my fancy new tool from the scrapbook section of a craft store.
This was a dazzling 2 days filled with laughs, hard work and joyful creativity. I will miss these felters when I rise tomorrow. And tomorrow starts a few days of beadwork workshops.
My delightful hostess Joy delivered me to
Crafty Frog
. In the morning I'll teach Raku and Rivoli (bracelet), then I'll be teaching 2 workshops in afternoon and evening. Happily, Joy has signed on to take the morning workshop, so we didn't have a sad goodbye.
I'm staying in the Country Comfort Hotel tonight and tomorrow. Laura put me up here for the free wifi that would enable me to blog. Alas, turns out they charge $4 for 15 minutes or 100mb of data. Yipes.
Posted using BlogPress from my iPad