Beaders arrived jazzed and ready to bead their hearts out. Jude (left) was a new beader until this week. She'd watched the videos on you tube that were done using projects from my MASTERING BEADWORK in preparation. .
Christine (center) has done quite a bit of beading and sometimes teaches classes at Laura's
Crafty Frog
in Canberra and Jenny's
Jelly Beads
in Mogo. Anne ( right) is quite an accomplished beader. Here they are looking over each others Undulating Beaded Bead, finished since last night's class
Also with us today for Elements of African Beadwork (sample in center of foreground) were Katherine (not in photo) and Kay (far right).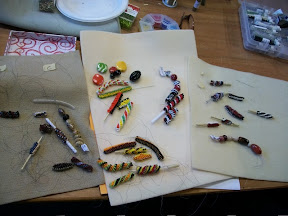 Many of the beaders had comflicting engagements and left class at 330 or 4 without fabricTingntheir necklace from the sampers made in class. I did manage to snap a quick pic of a few of their beaded beads made while learning 7 new stitches and/or vatiations.
Jenny dropped me back to my hotel after a quick stop at the market. The setting sun shed a magical light on this beautiful landscape. If your zoom, you can see afew roos out there. I'm staying in tonight to wash my hair, rest up and regroup. Tomorrow ends this adventure in Mogo and Jenny and I will haed for Orange and TAFTA (The Australian Forum of Textile Arts), where I will teach for a full and fabulous week.- Posted using BlogPress from my iPad