Laura, owner of
Crafty Frog
sent this photo of us in the morning workshop. We fit 3 workshops into our precious single day. To my right is Joy who was my hostess for the two days earlier when i had taught (again) for the Canberra Regional Feltmakers. In extreme left, with her back to us is Christina. She drove to Mogo later in the week to take some classes at Jelly Beads with me. I am sooooo lucky.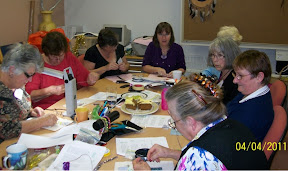 Laura is in the center here, facing us. Anne, on right, in profile, owns a paper crafts store (A White Dragon Papercraft, I think) Laura had hoped to show me before leaving Canberra for Mogo. Maybe next time.
In shopping for Fireline and PowerPro for the workshop, Christina was sold Stren Microfuse. First time I've seen this item. It worked just fine.
Finally I got to see the issue of
Australian Beading Magazine
featuring my article on Polygon stitch. It is a lovely magazine with full of bright photographs, beautiful projects clearly and colorfully illustrated.
In addition to beads, Crafty Frog carries a variety of threads and needlecraft supplies.
Laura has worked round the clock to restock the store after the flooding.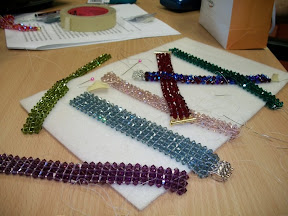 Even after a full day of beading, the evening workshop participants finished, or nearly, this right angle weave bracelet of Swarovski crystals.
Posted using BlogPress from my iPad