My flight was as good as it gets without an upgrade. I had a aisle seat, the seat next to me was vacant and the next one was a window seat occupied by a lovely and cordial woman. I watched a couple light movies and dozed as much as I could, though that new travel pillow I invested in is overrated. I arrived refreshed and on time. Naomi was waiting for me when I breezed through customs. A great start to another blissful stay in Japan.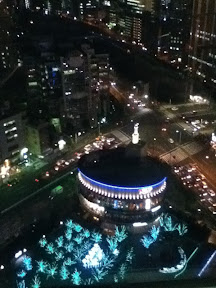 View from the elevator on the way to my floor at Tokyo Dome Hotel. Beautiful. After unpackingnand freshening up, I met with Tulop staff for dinner.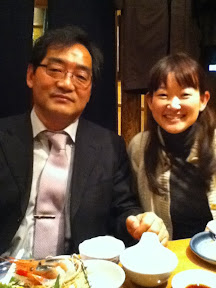 Harada-san treated us to a fabulous meal of several shared courses. I really enjoy these meals...the laughs, the shared delight in the fine food, the luxury of taking time over a meal that fills the entire evening and into the night. To Harada-san's side is Shoko Akiyama. She is interpreting for me at the demonstrations in the International Great Quilt Show and later in the week at Kiwa Seisakusysho. This is our first face-to-face meeting though we've corresponding for months. In that time of translating the recipes for the projects I'll teach and demonstrate, she has become a beader. I love when that happens.
Here is a quick pic of part of our meal...uh, feast. Fishes abound on this platter and the small bowl, front and center, contains sea urchin, which is more delicious than it is pretty.
To left is the rolled omelet thingy that I enjoy. To right is fried octopus. It was a great evening schmoozing with the staff in preparation for working together this week.
They delivered me to my hotel once again and we'll meet up tomorrow morning to put the finishing touches on the booth and welcome the throngs.
And as a postscript, I am able to blog and read e-mail because I am renting a mifi device to run my iPod and iPad. Renting a phone was the original plan but this was more economical, makes my fav devices work here and it os just plain techy and fun. So, one of myne-mails was from Carol Marlin. She attached a photo to her message saying that her New Years resolutions Include finishing unfinished projects...and her Complex Cane Hand Felted Beads Necklace from the worksops Imtaught to Indiana Bead Society, was one of them. She employed an iteresting configuration for the felt beads, rather than simply stringing them. Thanksmformsharing with all of us Carol.
Posted using BlogPress from my iPad