Ok...i cannot go to bed and deny you the joys i had the rest of today. But, i must keep it brief. It is wayyyy too late to be up.
So when we arrived at our Japanese restaurant, recommended by customers and navigated to by someone's iPhone...it is Japanese ITALIAN restaurant. New to each and every one of us. Tonight I would not be the only one enjoying a culinary adventure. This evening each of us would enjoy new dishes.
Yummy cheeses on right, proscuitto-ish ham with olives on left.
Ray fins with mayonnaise.
For dipping: broccoli, tomatoes, cauliflower, cubes of bread...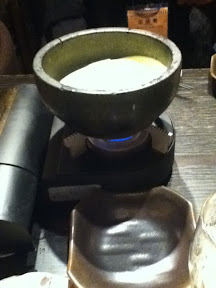 into...Yup, you guessed it. cheese fondue.
Thin french fried potatoes seasoned with cumin and on the side some pickled vegetables and catsup/mustard.
Pasta with a creamy crab sauce. They offered me a fork but, honestly I didnt fare better than I did with chop sticks.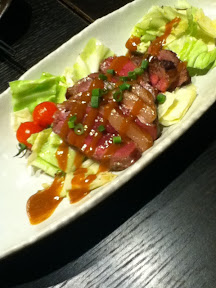 Vension with a miso sauce on cabbage. Perfect. Not gamey.
Delicious purple frozen dessert...some kind of potato. I declined ordering one to myself but was served a taste of the two kinds that were ordered by my friends. Lucky me. I am spoiled rotten.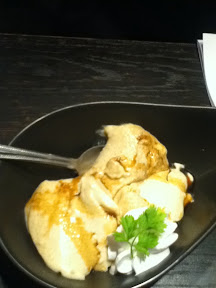 Panna coda (spelling, forgive me) of soy flour. Love the mouth feel. And its delish!
NOW to bed, so I don't miss a thing tomorrow. Hope you are having fun, working hard and eating delicious and healthful things.
Posted using BlogPress from my iPad