Mayumi, from Tulip's product development department arrived from Hiroshima. You may recognize her from my posts about TNNA in Columbus Ohio. She has planned a wonderful time in Kamakura for us, as this is my last day, a "free" day, before heading home tomorrow.
A few train changes later and we were in Kamakura. We admired the fine crafts in the shops that lined the main street. The lacquerware is fascinating but the fabric shop
Nugoo
lured me in. From coasters to
furoshiki
, they had all manner of lovely Japanese cloth.
When we reached the end of this avenue, we took a few moments at
Tsurugaoka Hachimangu Shrine
.
Mayumi's research into lunch restaurants paid off. Our delightful meal was on the second story, a "mom and pop" operation with just 3 large tables and a few seats at a counter. Even Mayumi had to shoot a few pics. Beautiful and delicious. A bitter vegetable only grown in this area...reminded me of gobo but, more intense, was a welcome taste treat.
We hailed a cab to take us to
Hokokuji Temple
, a Zen temple established in 1334.
From the moment you enter the grounds you feel your pace slow, your heart expand. The grounds are lovely and includes a moso-bamboo (largest bamboo species) forest.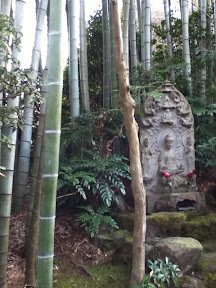 Wait until my cousin Charles sees THIS bamboo forest.
We made our way through this amazing stand of bamboo to a tea house where we rested with a matcha.
Yipes, how did it get to be 2 am? Maybe because we had another 3 hour feast tonight after the quilt show closed, and even these shallow postings take toooooooo long. Sweet dreams. Gotta go. I'm meeting Masami and Mayumi at 8 am for a quick beading lesson before I fly back home.
Posted using BlogPress from my iPad