In my hotel lobby this morning, it was like old home week.
Acquaintances made yesterday (Katsura Tuyako, Kazuko Andouille and Yumiko Harada) are now familiars to share warm greetings and cheerful giggles with. What a great way to start a day. We asked a staffer to take our picture.
Yesterday I met a couple from Brazil who organize craft/hobby shows there. They said, "You should come down". My joyful and hopeful response was, as always, "If you invite me, I will come". Wouldn't that be great?
As a point of interest, there were 22765 attendees yesterday and last year' s opening day was 22337.
Sonoko Nozue
dropped by the booth for a brief visit. Yes, she will be teaching again this year at
The Bead & Button Show
in Milwaukee WI. A beader who has taken 3 of my classes at B&B came by to say hello also.
Speaking of the Bead & Button Show, another session of
Complex Cane Hand Felted Beads Necklace
for Saturday June 11th.

This is Kazuyo. She stayed for my bracelet/necklace demonstration, purchased a kit so she'll be making one herself AND she gave me gifts: her beautifully handcrafted pin cushion and cell phone charm (she said to be sure to mention that the design is not her own).
Two famous Korean quilt artists visited with Shoko and I and then they escorted us to their quilts on exhibit. This is Chang Mi-Sun next to her quilt "Nine Sight".
And this is another of her quilts called "Friends".
This is Zyan Mi-gyong next to her quilt, a self portrait with husband and sons.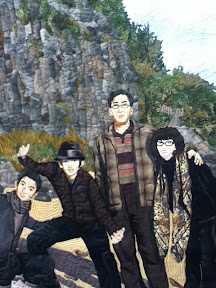 She so thoroughly captured the textures and colors of the landscape and the people.
The display of quilts was dizzying. They were hung in baffled rows, one after another; squared off as rooms creating a space to be entered; or arranged like stage sets to be observed from a distance.
After our full and successful day of demonstration, sales and schmoozing, we headed into the city center for
nabe
.
We shared a few courses before heating the nabe pot...including this one garnished with gold leaf!
It was delicious.
Even these short postings take an hour or two from my sleep time so I'll say good night, sweet dreams and see you here tomorrow.
-posted using BlogPress from my iPad