The holidays caused some serious phone tag situations which are sorting themselves out now. Kim, owner of
Crystals on the Rocks
, a bead store in Nyack NY, and I finally enjoyed a successful phone conversation. We scheduled a fulllll day of workshops for February 19th. We'll spend the day learning or exploring several stitches. Here are several samples to just give an inkling of the variety of one-of-a-kind necklaces are made in Elements of Beadwork. This workshop will run from 10a to 5pm with a pizza break provided for us.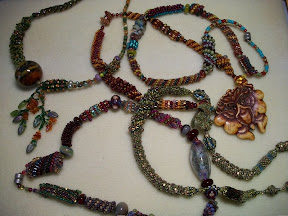 In this workshop expect to create a stunning one-of-a-kind necklace composed of strung beads and bead woven elements. The "elements" are samplers you'll produce while exploring several bead weaving stitches such as Dutch spiral, polygon, two-needle odd-count peyote and an original stitch devised to articulate tubular peyote. With concern for balance and design (topics we will cover) you'll string these samplers, adding assorted beads, to achieve your desired length. Its a fun day of learning that ends with a great necklace.
From 6-9pm I'm teaching Two Sides to the Story. This bracelet is made of a new stitch I invented based on the unique threadpath of the South African tubular bead stitch (regrettably) named Polygon stitch. As you work the short rows, the beadwork begins to corrugate, pushing one bead to the front and one bead to the back, hence...reversible! Make this reversible bracelet while adding a newly invented stitch to your beading repertoire.
There are 4 samples of Elements of Beadwork and 2 samples of Two Sides en route to them for display in the store.
So, if you're able, come for the full treatment...2 projects, several skills and a long luxurious day and evening of beading. If your dance card is already filling up, squeeze the evening class into the works. We'll be done in plenty of time for you to get your glad rags on and make it to the club on time! Or come for the day and leave in time for a hot dinner date. Have it your way. Reserve your seat now.
Kim and Grace are thinking they'd like me to plan regularly scheduled workshops there. We'll keep you posted.
The other day I received an email from Ginny. She had questions about (and praise for) HOW WE FELT. She would like to learn to make felt and found the instructions in the book too difficult for someone who has never felted. Luckily she included her Virginia address in her signature. Turns out I've been playing phone tag with Kristi of
Eleganza Yarns in Frederick MD.
My reply to Ginny included a map and directions to Eleganza Yarns, which is only 1.5 hours from her, by car. Won't it be fabulous if I get to teach her to felt there? Kristi will look over the 8 workshop descriptions and run some dates by me for summer or fall.
And another bit of calendar kismet: While I am in Canberra Australia in April, the Canberra Regional Feltmakers will host me for 3 days, though we've only arranged for me to teach their members for two days. Laura from
Crafty Frog
has asked me to teach a workshop and, voila, I do believe the 4th is hers. Thrilling. We won't decide what project until we receive confirmation from CRF (that they don't have me teaching on the 4th.)
Posted using BlogPress from my iPad