Guess it is a couple of weeks that I've been trying to work myself up into writing about my teaching/not teaching/teaching in Germany in 2011. Here goes.
You may recall reading my posts last March about Creativa Expo in Dortmund Germany. This was the first year of Perlen Akademie, beadwork workshops with international bead artists, that Saori Schroeder, owner of Twinkle Beads, instituted at the Expo. She brought, Laura McCabe, Anna Elizabeth Draeger, Diane Fitzgerald and I to Dortmund to teach. It was a wonderful time. Laura Andrews was there also, sponsored by Toho and teaching in the bead dedicated area of the Expo. It was a treat to have some time with Anna, Laura and Laura. Before we parted, Saori had talked with me about the projects she would like me to teach the next year. She noted this piece. It was on display in the showcase at the Bead Hall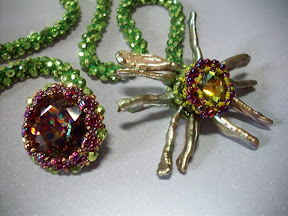 but, I did not teach it there. (However, I did teach this type of bezeled rivolis.) And Saori had suggested also, that I teach projects similar to my Elements of Beadwork, a vehicle for teaching several beading techniques, that are learned while beading samplers that, when strung together, produce a beautiful one-of-a-kind necklace. In addition, she had me mark my calendar for a special week of instruction in advance of Creativa.
I had been so flattered and delighted to be asked back. Imagine, she could invite a fresh new crop of teachers, and yet she was asking me to come again. In the ensuing months I've spoken liberally about my excitement to be returning to Germany to teach at Creativa. I've acquired many new German facebook friends who are beaders I have already, or hoped to, bead with at Creativa 2011.
Now, the embarrassment I have been reluctant to share: A couple days after emailing Saori all the new project proposals and declaring my unbridled joy at being asked back, she called me on the phone. Imagine what a difficult call that was for her to make. She explained that, unlike last year, she would not be hosting the teachers at this years event. She found that Huib Petersen, Melissa Grakowsky and Hiroe Tagaki would make their own arrangements and be paid according to the number of students they have.
Thoughit is easy to understand her choice, I was stunned, sad, and more than a little embarrassed. In my confusion, I embarrassed myself further by asking if I would be teaching during that special time prior to the Creativa, we'd set aside. This is when Hiroe Tagaki, a Japanese friend of mine you have read about here in previous posts, will be teaching special classes. It happens Saori will be in Japan next week wrapping up a visit, when I arrive to work with Tulip Co. She wondered if we might meet up.
OK...so now that I have cleared the air and shared my humiliation, I can move on to the silver lining in this cloud:
Petra Tismer had asked me about teaching at her store in Bonn...
Das PerLament
. Although I am thrilled at the prospect, I had, as yet, not pursed it. It would have been wrong to add it to itinerary that someone else was hosting. Now, I am intent on putting together a teaching tour headlining DasPerlament. I'm a little nervous about it, as I am not a European traveler, but, with input, advice and assistance from my facebook friends and the beaders I met in my classes last year in Germany, I think I can put together a string of destinations and workshops, as worked out for Australia in April. I'd like to teach in a few venues on one round trip ticket to Europe. I'm hoping Laurie ( of Lomi Lomi fame) will invite me to her store in Switzerland. Perhaps Nele will have me teach at her store in Belgium. Maybe I'll arrange a feltmaking workshop or two in Holland to round out the adventure. So, please dear friends, if you can help me pull this off, I sure appreciate it.
Posted using BlogPress from my iPad