An hour in advance of my alarms, I awoke ready and eager for a fine day. This view greeted me when I opened the draperies. Lovely day.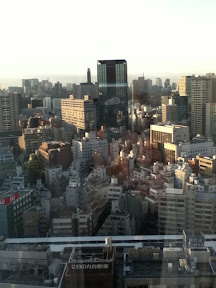 Today kicks off the 10th Anniversary of the International Great Quilt Show in Tokyo.
While we (Naomi seen here) put the finishing touches to the booth, there was a formal opening ceremony that included a visit from the Princess.
As soon as the doors opened, the stadium bustled with opening day shoppers and quilt afficionados. Our booth occupies a corner and attracts alot of customers.
This year the focus is on the new lines of crochet hooks, some designed especially for bead crochet...called Sucre; and fine needles, including the new line of beading needles I'll tell you more about later.
When my demonstrations ended, Naomi and I went once around the show floor, but saving the quilt exhibits for our free time on afternoon of 24th. I'm telling you, EVERY single boothnsold some kind of handbag, tote or purse. I resisted but, we were practically in tears of laughter, when I pointed it out to Naomi. This display was not unusual in its avoidance of color but richness in visual impact...every nuance of black, grey and beige withntexture and detail and all lovely. I'd say so even if I wasn't so mad hot crazy for bags. (Don't be alarmed by the mask. It is commonlynseen here. Some folks told me it is a precautionary strategy during flu season while today I heard it has to do with airborne pollen.)
Motoko Natusbori came by with Yumiko Karasawa this afternoon. It was pretty funny because, as she approached, she walked up behind a beader who was telling me she is friends with Keiko Seki, and do I know her. "Why yes, I do. Do you know Hiroe Tagaki and Yumiko Watanabe and Kimie Suto..." you get the drift, the seven degrees of separation thing. We were just short of Kevin Bacon and had just dropped Motoko's name when she came into earshot. Pretty funny. Motoko said that had a great time working with Nancy Cain last week when she taught at Coronet.
I promise to share the evening that followed this successful and thrilling opening day but it will have to wait until tomorrow. Off to bed with me now.
using BlogPress from my iPad