My Tokyo itinerary includes a day of teaching 2 short workshops at a large bead store after a few days of demonstrating at the International Great Quilt Show. It is a large store, beautifully arranged and carrying a wide range of jewelry making supplies that extend beyond beads: preserved flowers, feathers, and fur pom poms.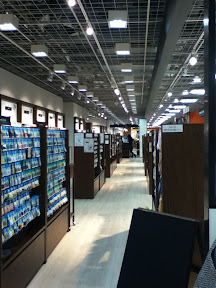 When I packed my suitcases, I had no idea how many students to expect or what the classroom set up would be, so I packed for 40, with ability to accomodate more. When it was revealed that the store limited registration to 5 students, maximum, I was flabbergasted. What a luxury to have this teacher: student ratio.
Both the necklace and the bracelet projects were scheduled for the same time slot. This permitted each student to learn and make her chosen project, while being exposed to the lesson for the other project. Wonderful. A version of what I do on the Thursdays when I teach at Beadzo in Tivoli NY. Each beader works on her chosen lesson or project while benefitting by the lessons going on around her. Check out the
Kiwa bead store blog
.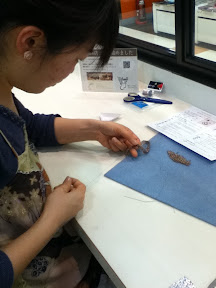 This is Chihiro at work on her bracelet. This is her first beading project. She was quick to understand this double needle right angle weave.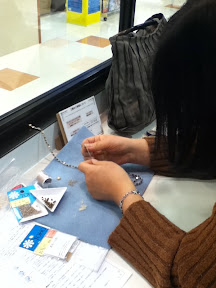 Yoko is also a first time bead stitcher. The recipe calls for 75 4mm firepolish. She had 100 so, I suggested she also make a 25-bead-long one. Since they are finished with magnetic closures, she can either wear them connected into a longer necklace, or wear them as a necklace and bracelet set. She promises to use a short chain with 2 lobster claws as a safety chain, when wearing it as a bracelet.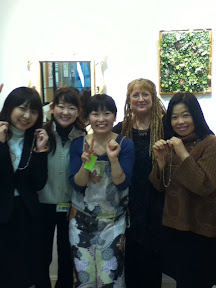 After class, the sales clerk asked me to teach her how to make the beaded bead that she admired on the felt bracelet I made for Masami. This was Dutch spiral. Being the teacher who can't say no, we remained a few more minutes after class to teach her this stitch, commune with our beads and each other. What a joy.
Will share the rest of this day with you later. Right now I have to meet Mayumi. Posted using BlogPress from my iPad